[FEATURE]
Foot care mask removes old dead skin cells from rough heels and makes foot skin baby-soft.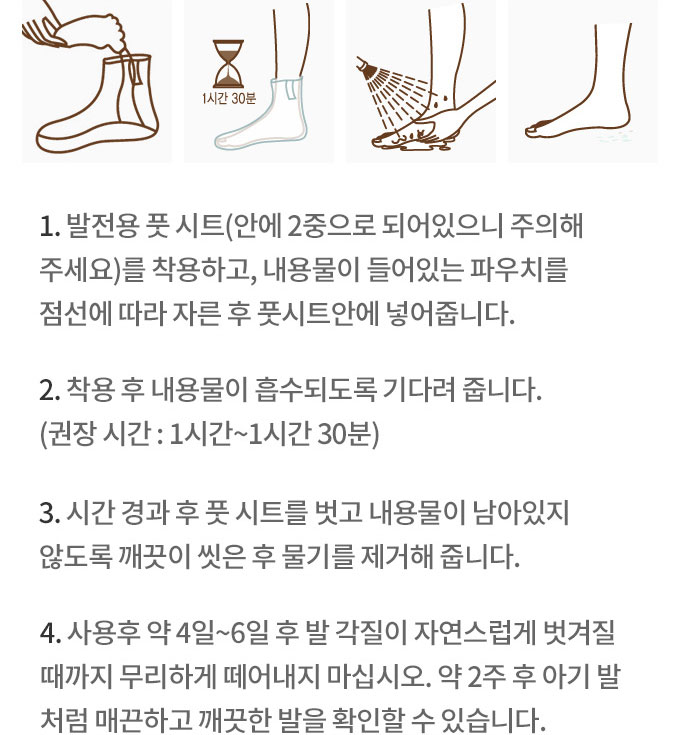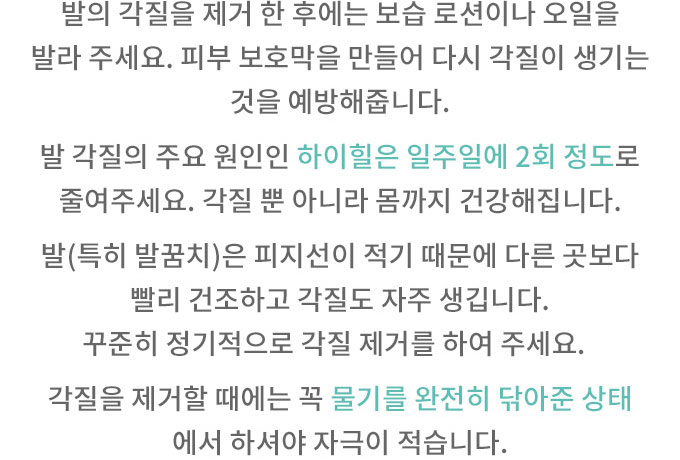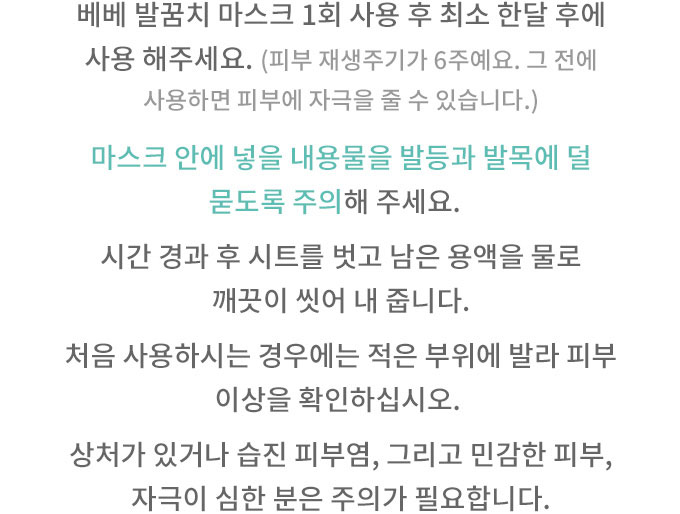 PRODUCT DESCRIPTION

VOLUME/WEIGHT: 20ml*2

COUNTRY OF MANUFACTURE: South Korea

HOW TO USE:
1. Slip-on foot sheets. (Each sheet is double layered)
2. Cut along the enclosed pouch dotted line and pour contents into the foot sheet.
3. Wait 1~1 hour 30 minutes after wearing a sheet for the solution to absorb into the skin.
4. After a certain amount of time, take the sheet off, wash off the remaining solution, and dry feet thoroughly.
5. After 4~6 days, the dead skin cells will naturally peel off. Do not peel with hands.
6. Wait 2 weeks until dead skin cells completely peel off for smooth and clean feet.

INGREDIENTS: Water, Alcohol, Lactic Acid, Sodium Lactate, Glycolic Acid, Glycerin, Arginine, PEG-60 Hydrogenated Castor Oil, Phenoxyethanol, Salicylic Acid, Fragrance, Disodium EDTA, Butylene Glycol, Ascorbic Acid, Urea, Tocopheryl Acetate, Retinyl Palmitate, Helianthus Annuus (Sunflower) Seed Oil, Cucumis Sativus (Cucumber) Fruit Extract, Zea Mays (Corn) Leaf Extract, Camellia Sinensis Leaf Extract, Sodium Hyaluronate, Tocopherol, Citrus Aurantifolia (Lime) Fruit Extract, Citrus Limon (Lemon) Fruit Extract, Pyrus Malus (Apple) Fruit Extract, Citrus Aurantium Dulcis (Orange) Fruit Extract, Vitis Vinifera (Grape) Fruit Extract, Pinus Palustris Leaf Extract, Laminaria Japonica Extract, Gelidium Cartilagineum Extract, Salicornia Herbacea Extract, Hizikia Fusiforme Extract

CAUTIONS FOR USE
1. For external use only.
2. Avoid contact with eyes.
3. Keep out of reach of children.
4. Discontinue use if signs of irritation and/or rash appear.
**COVID-19 delays**
Due to the ongoing issues with COVID-19, there may be slight delays with some of your orders (both subscription and shop orders). We sincerely apologize but trust everyone will understand that we are all facing an unprecedented situation.
We are instead only offering shipping via DHL and free shipping on orders over $100
Shipping Fees
*For more information, please refer to the full Shipping Rates page
1. Estimated Delivery Time
North America - 10 to 25 business days
Europe - 15 to 30 business days
Asia - 10 to 20 business days
UK, Germany, Rest of world - 20 to 40 business days
2. Out-of-stock items
Occasionally, there may be unexpected delays or out-of-stock items from our brand partners. In this case, we'll let you know and refund the out-of-stock items back to you.
3. Shipping
Once your order is ready, you'll receive a shipment confirmation email and/or text message. If your order is shipped in multiple packages, you'll receive multiple tracking numbers.
We are unable to ship to: P.O. Box, APO, FPO, DPO.
All our orders are shipped from our warehouse in S. Korea.
Shipping delays due to customs
In some cases, some orders may randomly be subjected to customs clearance procedures which can cause delays from the original estimated delivery time.
Split your non-subscription purchase into 4 payments over 4 months with ViaBill.
Choose ViaBill as your payment method at checkout.
Check out using a credit or debit card.

Your first payment of 25% of the total purchase price is due at the time of checkout. The remaining three payments will be billed automatically, every month from the first payment date.

Available for US and Denmark orders only.
For more information, please refer to ViaBill.
1 Point = $0.01 USD
Ways to earn rewards:
200 Points - Sign up (create an account, no need to purchase right away)
2 Points - For every dollar spent (i.e. 2% cashback)
1500 Points - Refer friends
300 Points - Celebrate your birthday
20 Points - Follow on Instagram

20 Points - Follow on Facebook

20 Points - Share on Twitter

20 Points - Share on Facebook

20 Points - Like our Facebook Page