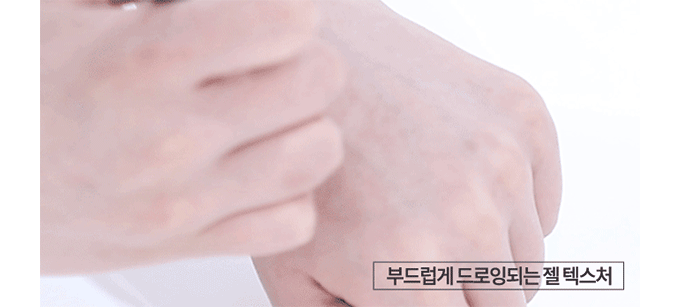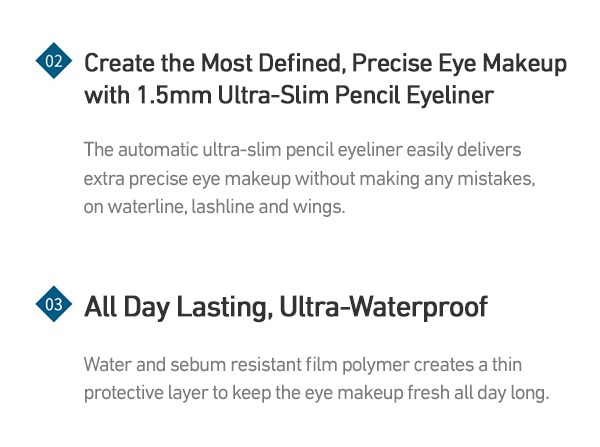 What it is
1.5mm super slim gel pencil eyeliner that softly melts on skin then fixes perfectly.
---
How to apply

[Directions]
Twist to dispense certain amount and use on desired area. Close cap after use.

[Tips]
Due to the super thin 1.5mm pencil type, exposing the lead excessively may cause the lead to break. Thus, be sure to expose only 1mm at a time.
---
Caution
1. Do not use the product on scars or any area of skin irritation such as dermatitis and eczema.
2. Keep the product clean for next use.
3. Do not share with others.
4. Avoid extremely high and low temperatures and keep out of direct sunlight.
5. Keep the product out of the reach of children and babies.
Weight (g)
10
Size
0.002 oz. / 0.08 g
INGREDIENTS
**COVID-19 delays**
Due to the ongoing issues with COVID-19, there may be slight delays with some of your orders (both subscription and shop orders). We sincerely apologize but trust everyone will understand that we are all facing an unprecedented situation.
We are instead only offering shipping via DHL and free shipping on orders over $100
Shipping Fees
*For more information, please refer to the full Shipping Rates page
1. Estimated Delivery Time
North America - 10 to 25 business days
Europe - 15 to 30 business days
Asia - 10 to 20 business days
UK, Germany, Rest of world - 20 to 40 business days
2. Out-of-stock items
Occasionally, there may be unexpected delays or out-of-stock items from our brand partners. In this case, we'll let you know and refund the out-of-stock items back to you.
3. Shipping
Once your order is ready, you'll receive a shipment confirmation email and/or text message. If your order is shipped in multiple packages, you'll receive multiple tracking numbers.
We are unable to ship to: P.O. Box, APO, FPO, DPO.
All our orders are shipped from our warehouse in S. Korea.
Shipping delays due to customs
In some cases, some orders may randomly be subjected to customs clearance procedures which can cause delays from the original estimated delivery time.
Split your non-subscription purchase into 4 payments over 4 months with ViaBill.
Choose ViaBill as your payment method at checkout.
Check out using a credit or debit card.

Your first payment of 25% of the total purchase price is due at the time of checkout. The remaining three payments will be billed automatically, every month from the first payment date.

Available for US and Denmark orders only.
For more information, please refer to ViaBill.
1 Point = $0.01 USD
Ways to earn rewards:
200 Points - Sign up (create an account, no need to purchase right away)
2 Points - For every dollar spent (i.e. 2% cashback)
1500 Points - Refer friends
300 Points - Celebrate your birthday
20 Points - Follow on Instagram

20 Points - Follow on Facebook

20 Points - Share on Twitter

20 Points - Share on Facebook

20 Points - Like our Facebook Page