A 7-in-1 total pore solution freshener for intensive pore care. It is made of Anti Pore-Dex Complex & Astringentlex: For tightening up pores effectively. 
What's Inside 
Component: Wonder Pore Freshner
Vol./Weight: 250ml 
Product Feature 
Total pore solution: effectively cleans the inside and outside of pores with its unique peppermint extract.
This Freshner balances pH levels, makes skin pure like baby skin and prevents skin troubles caused by pH imbalance.
7-in-1 Solution: Deep cleansing, sebum control, pH4.5 care, tightening pores for clear skin, giving elasticity, moisturizing.
Harmless ingredients: WITHOUT mineral oil, fragrance, coloring, talc, animal ingredients, silicone oil
How to use 
Dispense a sufficient amount onto the side of the cotton pad after cleansing in the morning and evening.
Liberally apply freshener to the face.
Massage in a circular motion.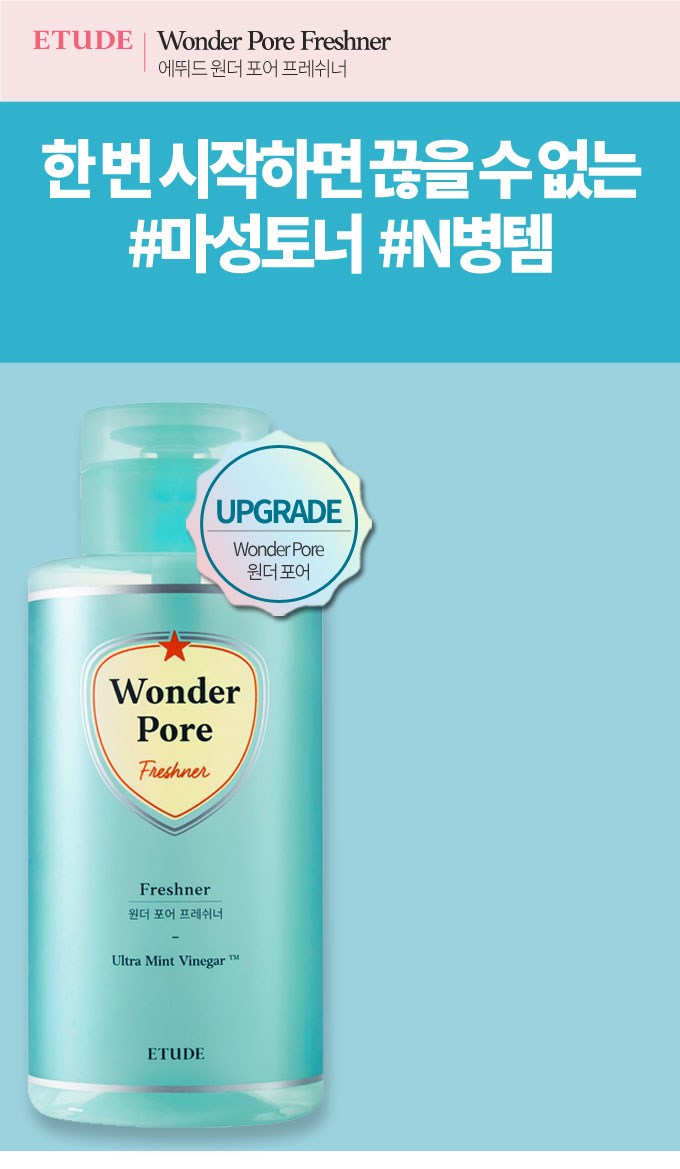 Ingredients
WATER, ALCOHOL, BUTYLENE GLYCOL, BETAINE, MENTHA ARVENSIS EXTRACT, VACCINIUM MYRTILLUS FRUIT/ LEAF EXTRACT, SACCHARUM OFFICINARUM (SUGAR CANE) EXTRACT, CITRUS MEDICA LIMONUM (LEMON) FRUIT EXTRACT, CITRUS AURANTIUM DULCIS (ORANGE) FRUIT EXTRACT, CHAM- AECYPARIS OBTUSA WATER, GINKGO BILOBA LEAF EXTRACT, ACER SACCHARUM (SUGAR MAPLE) EXTRACT, GENTIANA LU- TEA ROOT EXTRACT, ARTEMISIA ABSINTHIUM EXTRACT, ARNICA MONTANA FLOWER EXTRACT, ACHILLEA MILLEFOLIUM EXTRACT, GLYCERETH-26, GLYCERIN, ETHYLHEXYLGLYCERIN, SODIUM HYALURONATE, ACETIC ACID, DISODIUM EDTA, PHENOXYETHANOL

1 Point = $0.01 USD
Ways to earn rewards:
200 Points - Sign up (create an account, no need to purchase right away)
2 Points - For every dollar spent (i.e. 2% cashback)
500 Points - Refer friends
200 Points - Celebrate your birthday
20 Points - Follow on Instagram

20 Points - Follow on Facebook

20 Points - Share on Twitter

20 Points - Share on Facebook

20 Points - Like our Facebook Page