[IDEAL FOR]
All Skin Types

[FEATURE]
Various sizes of circle, square, hexagonal shape glitter particles
collide with each other and make a shining glow.
Fluffy and moist glitter with creamy formulation gently melts on the skin.
No worries of breakage, even it broken, the formulation is recoverable.
TEXTURE




Color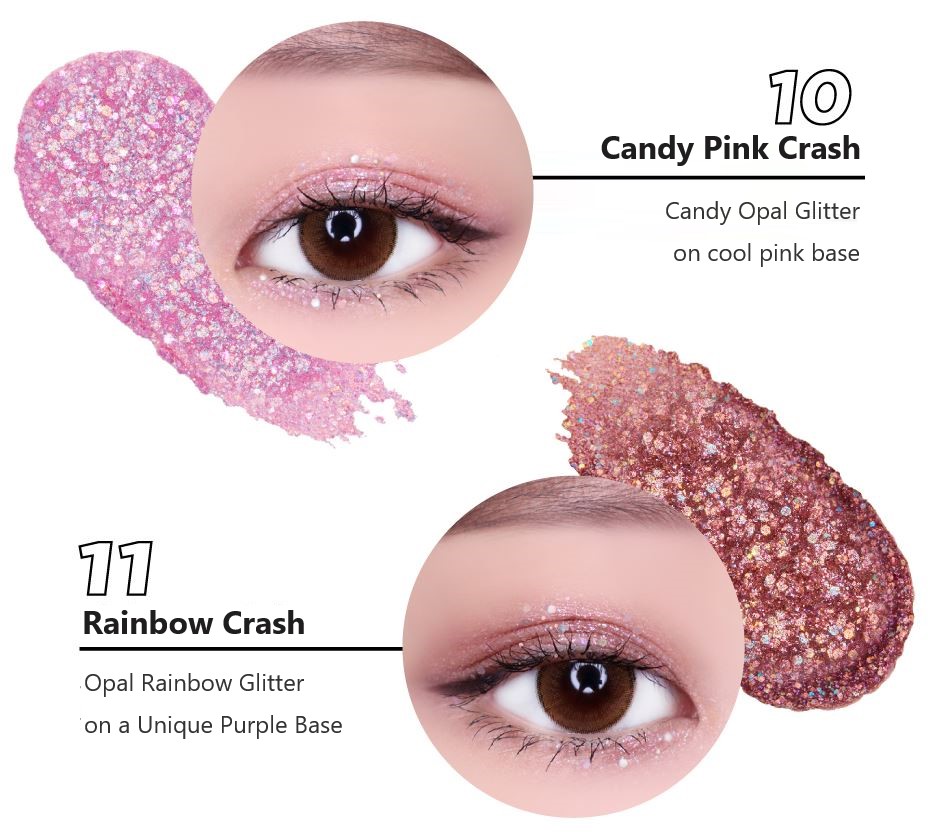 PRODUCT DESCRIPTION
VOLUME/WEIGHT: 3g

COUNTRY OF MANUFACTURE: South Korea

HOW TO USE:
- When using, please apply with fingertips. Rubbing may cause the glitter to develop as a lump.
- If the product is exposed to air for a long time, the contents may become hardened. - After use, be sure to close the cap.
- Be careful not to get the contents inside your eyes.
- Use a remover and a cotton swab to clean the glitters.

INGREDIENTS: Water, Talc, Mica, etc.
CAUTIONS FOR USE:
1. If you experience any symptoms such as redness, swelling, or itchiness during usage or from exposure to direct sunlight after usage, suspend use, and consult a physician.
2. Do not use on wounds or other areas of skin irritation.
3. Storage and handling
a) Keep out of reach of children.
b) Keep away from direct sunlight.
Split your purchase into 4 payments over 6 weeks with QuadPay.
Choose QuadPay as your payment method at checkout for orders over $35.
Check out using a credit or debit card.

Your first payment of 25% of the total purchase price is due at the time of checkout. The remaining three payments will be billed automatically, every two weeks from the first payment date.

Available for US orders only.
For more information, please refer to QuadPay.
**COVID-19 delays**
Due to the ongoing issues with COVID-19, there may be slight delays with some of your orders (both subscription and shop orders). We sincerely apologize but trust everyone will understand that we are all facing an unprecedented situation.
We have temporarily disabled Standard Shipping (Korea Post) until further notice
We are instead only offering shipping via DHL and free shipping on orders over $120
Shipping Fees
*For more information, please refer to the full Shipping Rates page
1. Estimated Delivery Time
North America - 10 to 25 business days
Europe - 15 to 30 business days
Asia - 10 to 20 business days
Rest of world - 20 to 40 business days
2. Out-of-stock items
Occasionally, there may be unexpected delays or out-of-stock items from our brand partners. In this case, we'll let you know and refund the out-of-stock items back to you.
3. Shipping
Once your order is ready, you'll receive a shipment confirmation email and/or text message. If your order is shipped in multiple packages, you'll receive multiple tracking numbers.
We are unable to ship to: P.O. Box, APO, FPO, DPO.
All our orders are shipped from our warehouse in S. Korea.
Shipping delays due to customs
In some cases, some orders may randomly be subjected to customs clearance procedures which can cause delays from the original estimated delivery time.
1 Point = $0.01 USD
Ways to earn rewards:
200 Points - Sign up (create an account, no need to purchase right away)
2 Points - For every dollar spent (i.e. 2% cashback)
1500 Points - Refer friends
300 Points - Celebrate your birthday
20 Points - Follow on Instagram

20 Points - Follow on Facebook

20 Points - Share on Twitter

20 Points - Share on Facebook

20 Points - Like our Facebook Page