Watch your favorite movie or K-drama while eating these bibim noodles, it has chewy noodles, and the sauce is made from red pepper, dongchimi, and pear. 
What's Inside 
Component: 1 Nongshim Bae Hongdong Bibim Noodles (Winter Edition) 137g x 4pc
How to cook 
1. Add noodles to 600ml boiling water and boil for 3 minutes.
2. Rinse the cooked noodles in cold water and drain the water.
3. Add bibimjang sauce and mix together.
4. At the end, sprinkle with sesame topping and eat.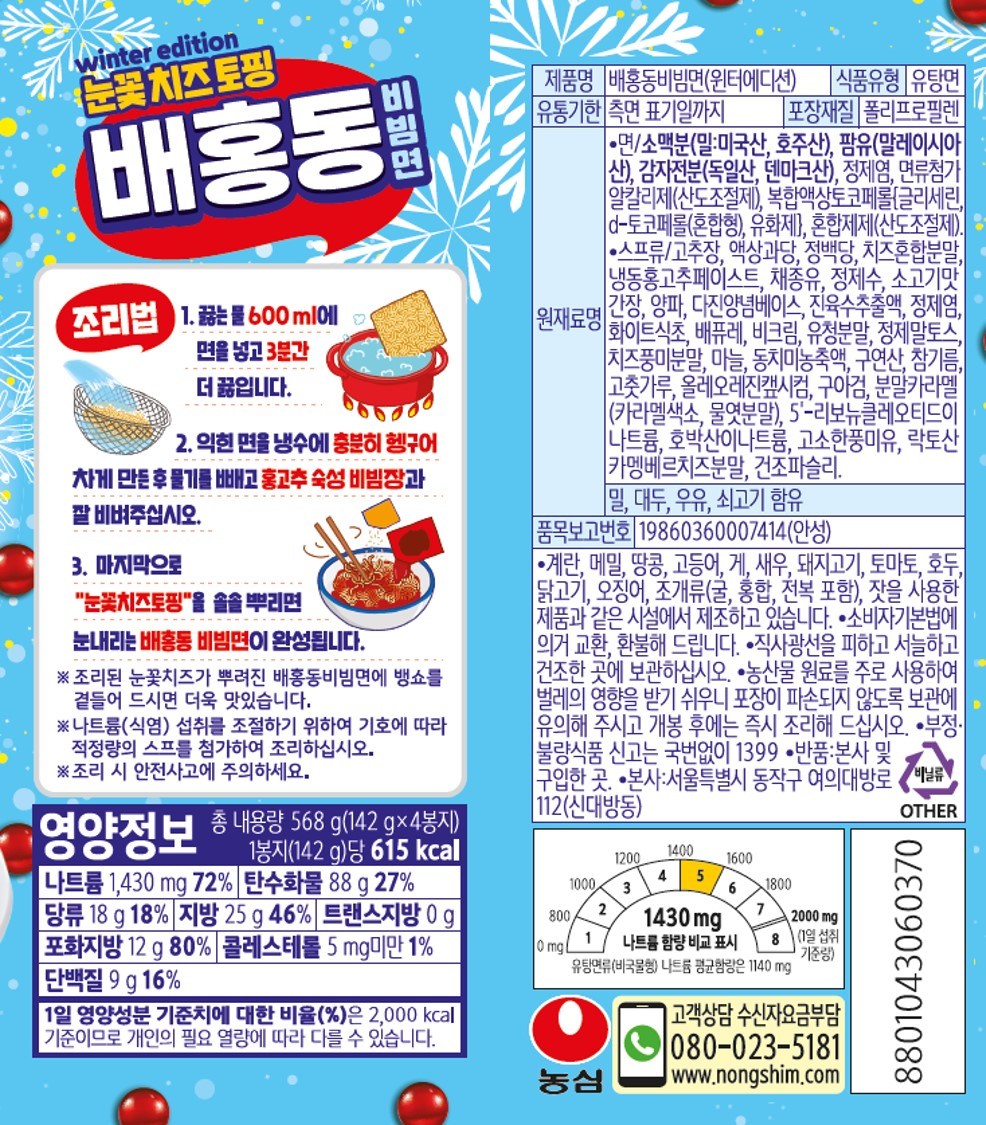 Ingredients
Noodles: 
Wheat Flour 74.25%, Potato Starch, Palm Oil, Salt, Alkaline Additives With Noodles, Composite Liquid Tocopherol (Glycerine, D-tocopherol (E306), Emulsifier), Mixed Regime (Acidity Regulator).

Sauce:
Red Pepper Paste (Red Pepper, Salt), High Fructose Com Syrup, Sugar, Soy Sauce (Soybean, Wheat, Salt), Rapeseed Oil, Water, Laver Flake, Onion, Dried Red Pepper Powder, Dongchimi Concentrate (Radish, Water, Salt), Salt, Garlic, White Vinegar, Sesame Oil, Roasted Sesame, Roasted Black Sesame, Pear Puree, Citric Acid(E330), Oleoresin Capsicum (E160c), Guar Gum(E412), Caramel Powder (Caramel Color(E150a), Oligosaccharide Powder), Flavor Enhancer (Disodium 5′- Ribonucleotide (E635)), Disodium Succinate, Flavoured Oil.

1 Point = $0.01 USD
Ways to earn rewards:
200 Points - Sign up (create an account, no need to purchase right away)
2 Points - For every dollar spent (i.e. 2% cashback)
500 Points - Refer friends
200 Points - Celebrate your birthday
200 Points - Upload a photo (review)
100 Points - Write a review 
20 Points - Follow on Instagram

20 Points - Follow on Facebook

20 Points - Share on Twitter

20 Points - Share on Facebook

20 Points - Like our Facebook Page