Description

Shipping cost

Return & Refund
​In the hot summer, it's so hard to work~ So, the all-around item ready-to-eat handy fan!

​✔ 5 levels of wind speed adjustable
✔ The magnet can be attached and detached
✔ Can be used as a handheld mirror
✔ Safety-conscious battery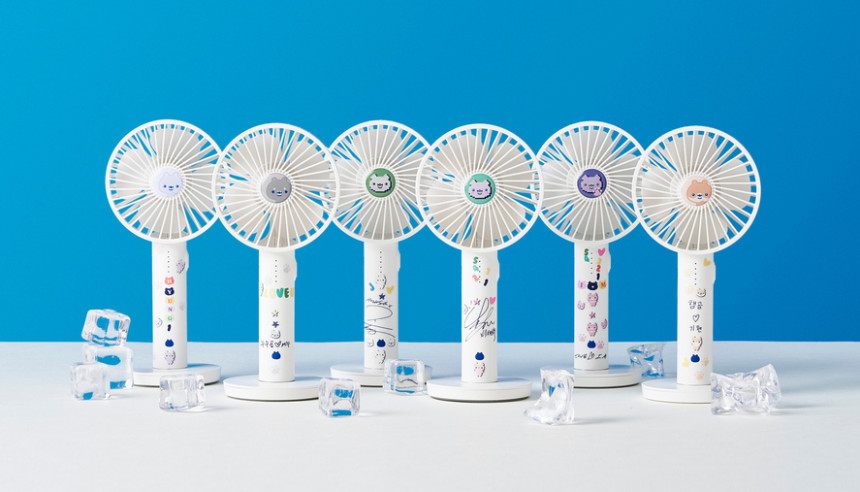 ​* Images may differ slightly from the actual product depending on product specifications.
​Components:
1 fan

1 auto mirror stand

1 USB charging cable

Epoxy sticker (2 portraits + 2 characters)

1 transparent sticker

1 photo card
​ / NUNUGOM /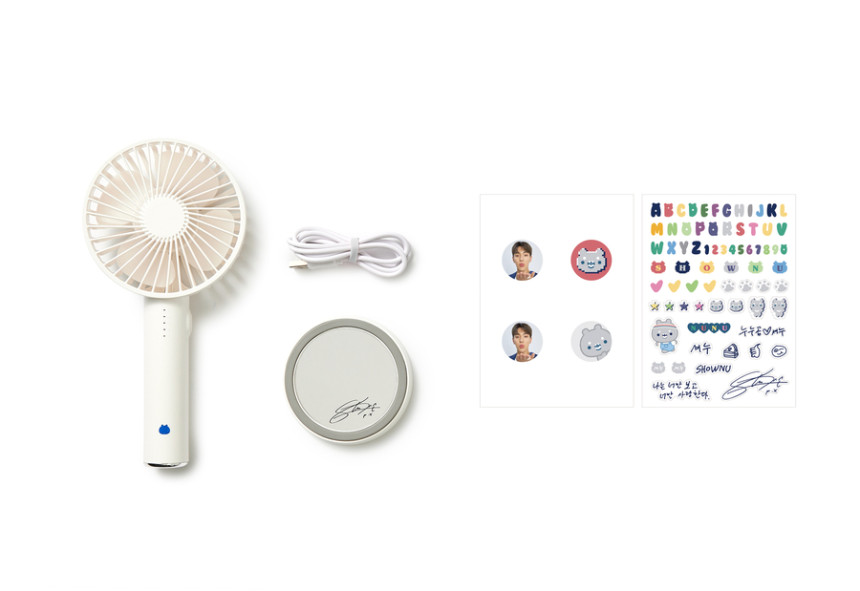 / MINGGOM /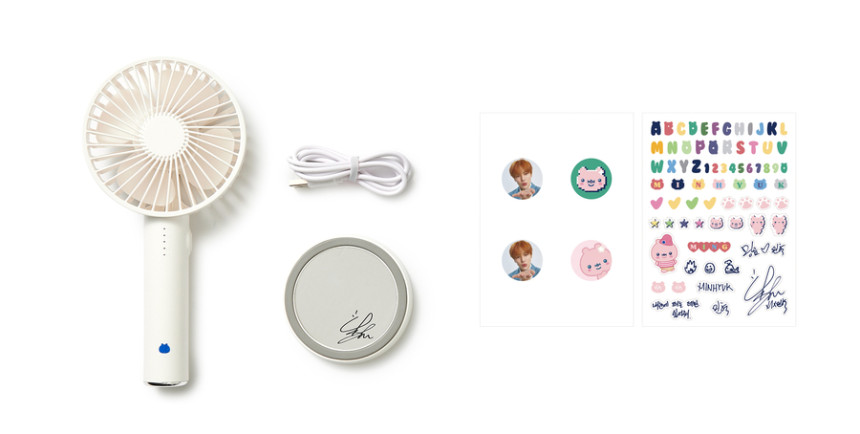 ​
/ HAMGOM /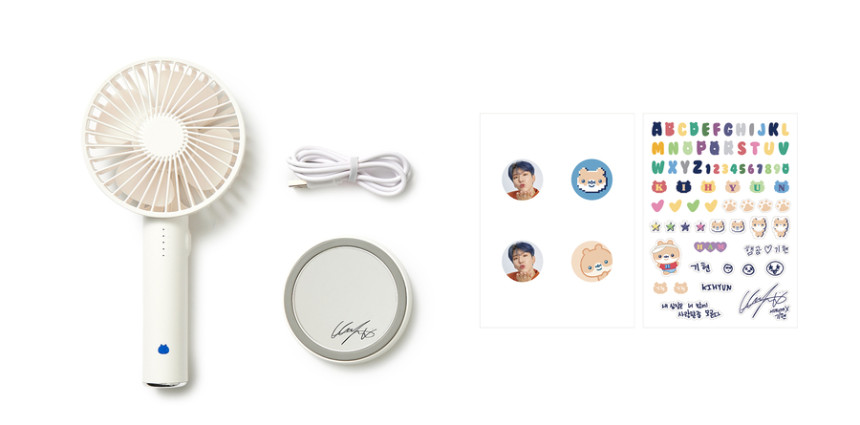 ​
/ ZIZIGOM /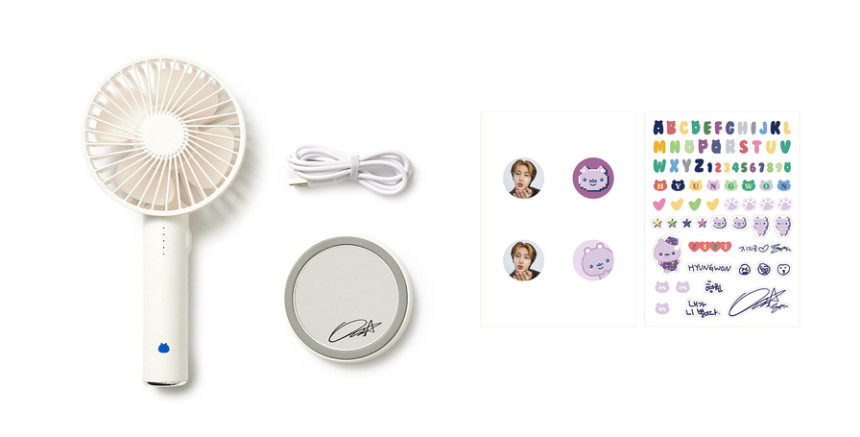 / HONEYGOM/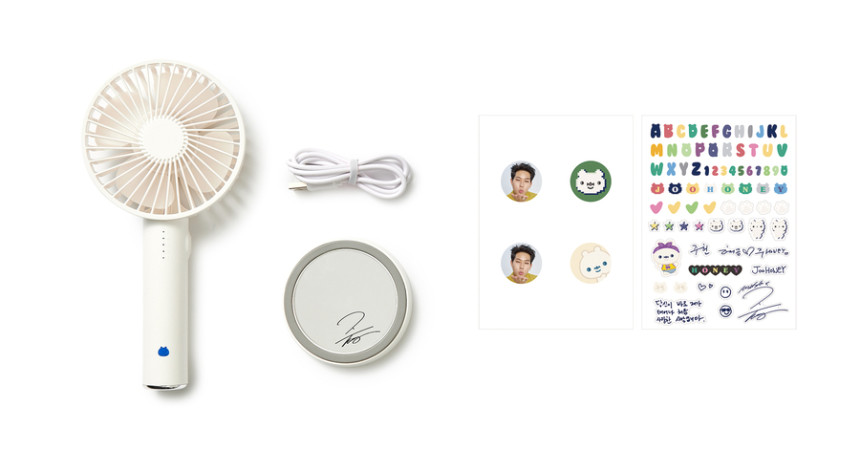 / DANYGOM /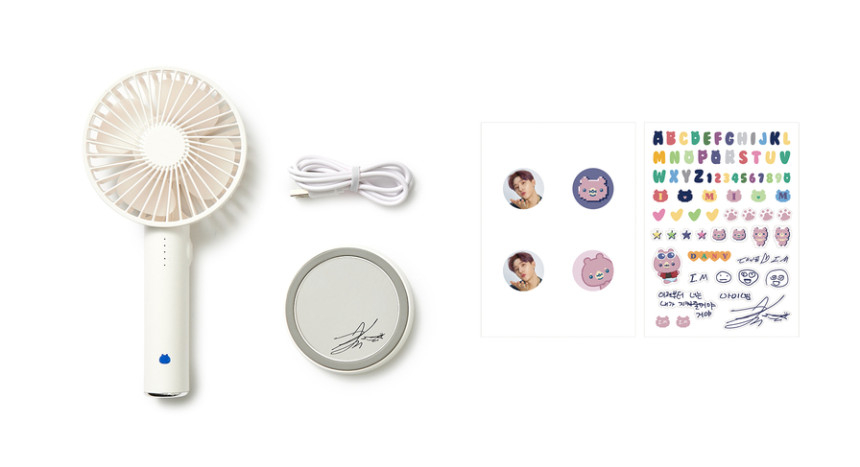 This is not the end.
The poses of Monsta X members blowing after a cool breeze
We even give you a photo card!
*Photo cards are presented with matching characters and members.
​
​+ DETAIL 1
A USB charging cable is included as standard, and can be charged via a USB charging cable.
The red LED lights during charging, and the LED turns off when charging is complete.
When the remaining battery level is low, the LED on the wind speed indicator flashes and then stops automatically.
The wind speed can be adjusted in 5 stages to be used according to the temperature.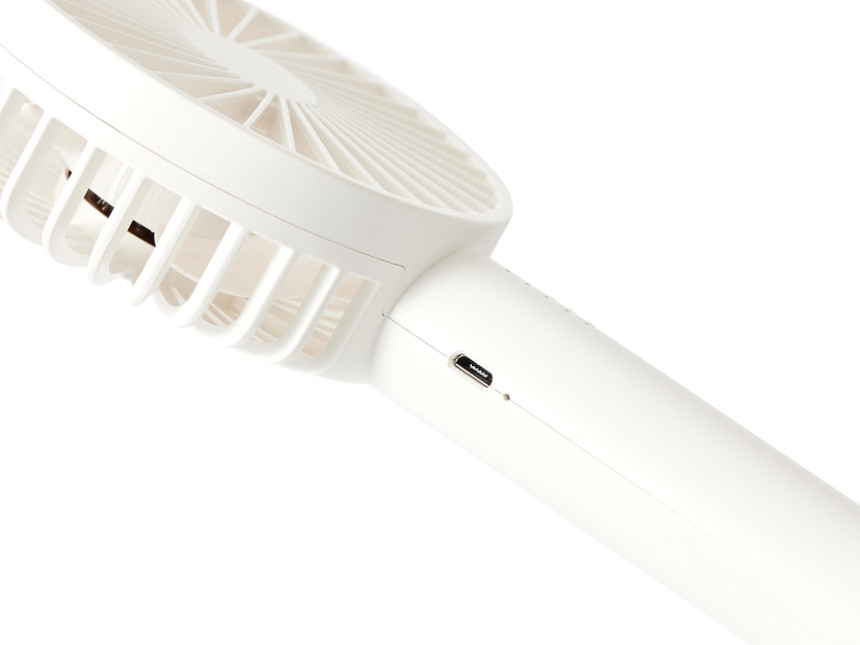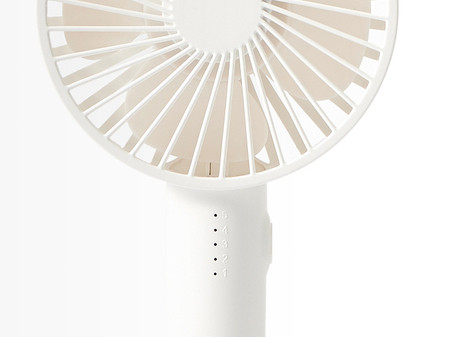 ​
+ DETAIL 2
The fan and the cradle have a built-in magnet for ease of use. It can also be used by standing on a stand.
A non-slip rubber pad is attached to the bottom of the cradle, and it can be used as a portable hand mirror.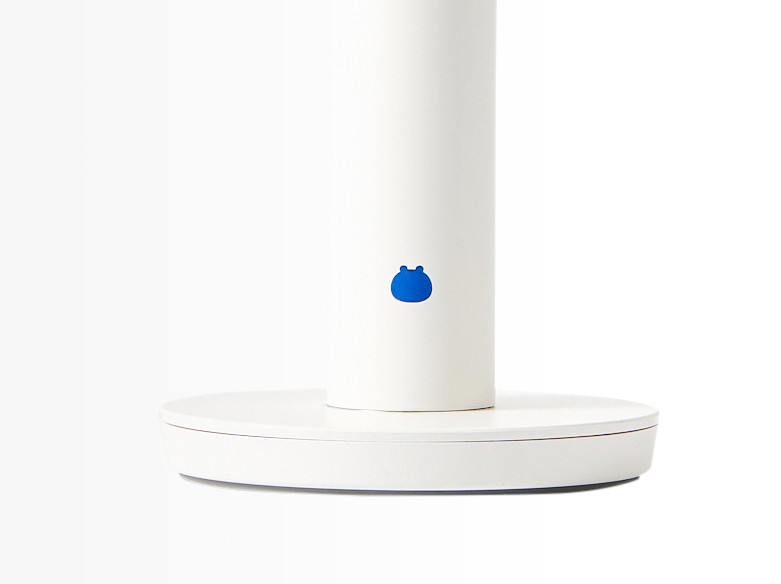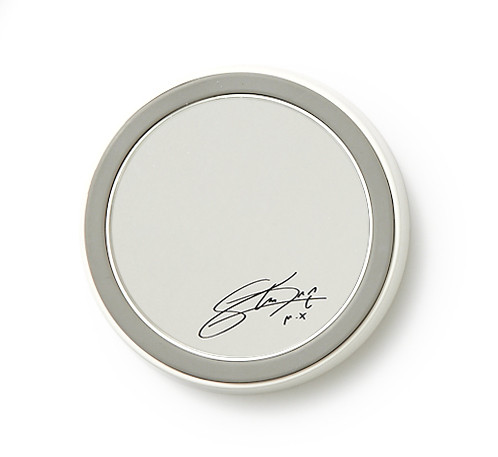 + DETAIL 3
Both Handy Fan products and batteries are KC certified safe products.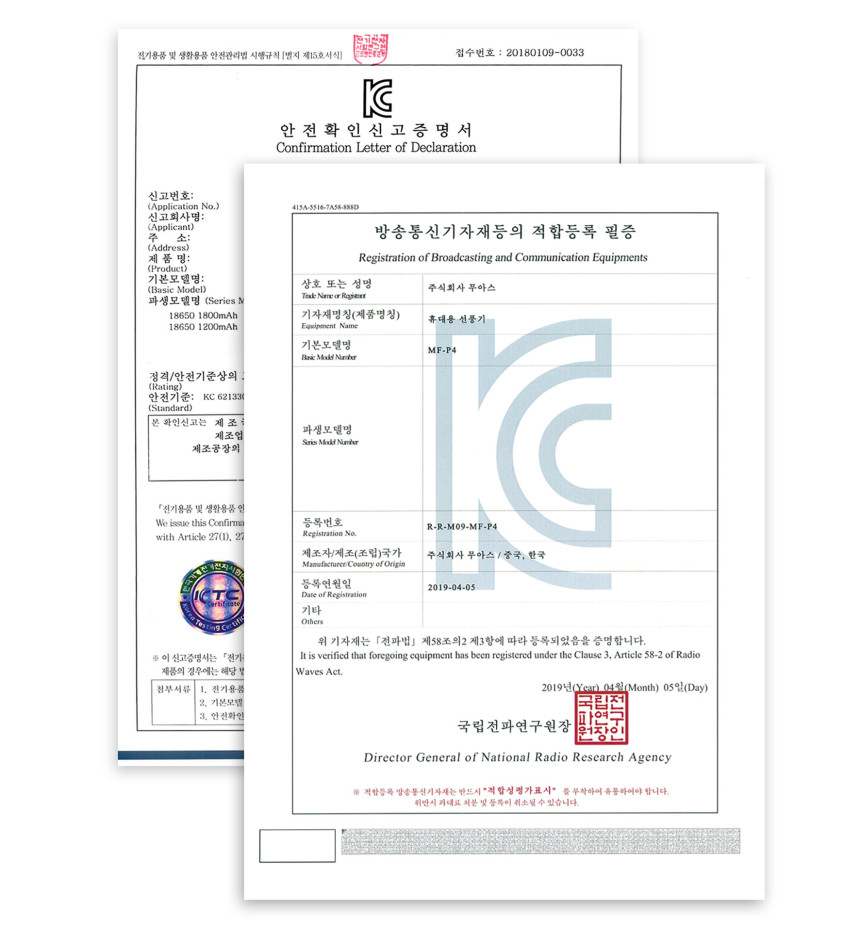 + DETAIL 4
Make your own fan with only one sticker! It will go well in any space.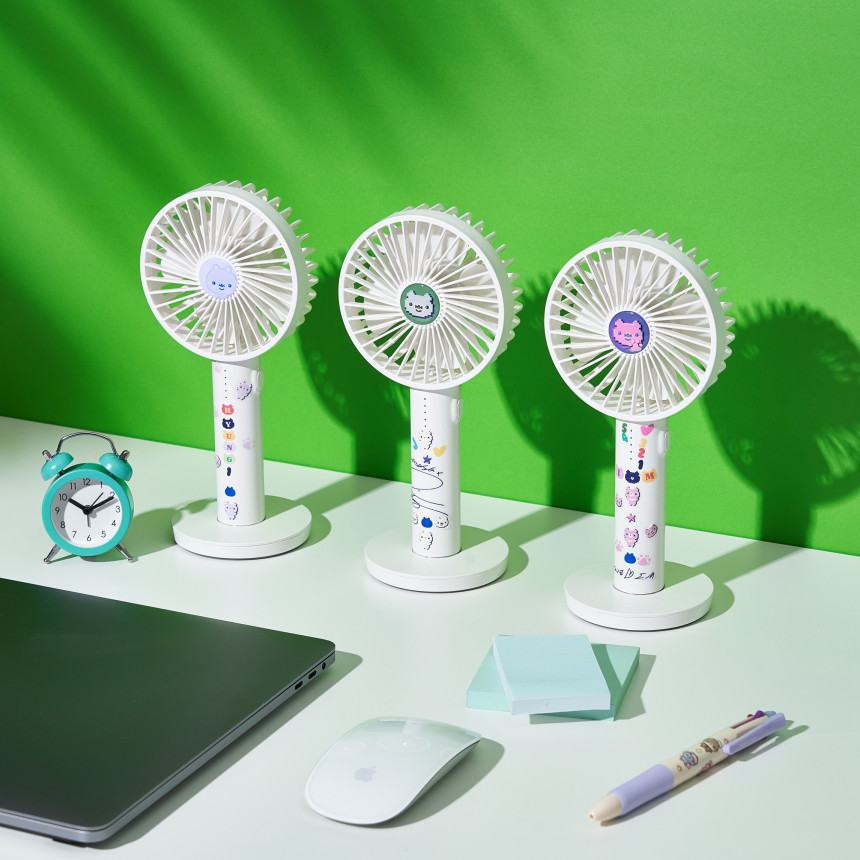 Product Details:
Battery voltage: 3.7V

Battery capacity: 2,000mA

Battery charge time: about 3 hours

Handy Fan: 203X100X35mm, 165g
Holder: ø81X11mm, 52g
Material: Polyester, PVC

Country of origin: China
​Notice:
This product is for those over the age of 14 and is not intended for children.

Do not use it for any other purpose.

Please keep out of reach of children.

Avoid direct sunlight, high temperature, and high humidity.

Do not apply excessive force to the product or keep it close to the fire.

Use a charger that matches the rated voltage. When using a fast-charging cable and charger, it may cause charging failure, strong heat generation, or device failure.

Cables and chargers that do not match the rated voltage may cause malfunction, and exchange or return due to this is not possible.

If you use the fast charging adapter to charge or leave for a long time, please be careful as it may cause abnormality to the device.

Keep your fingers away as this may be dangerous when rotating the fan.

Do not disassemble the battery to open or cut it.

Do not expose the battery to heat, fire, or direct sunlight.

Check the polarity indicators of the battery and device and use them correctly.
* Worldwide shipping from Korea.
* Official goods only.
Shipping Courier Services


DHL Express: ETA of 2~5 days after shipment
FedEx International Priority: ETA of 2~5 days after shipment
Korea Post: ETA of 15~25 days after shipment
SHIPPING COUNTRIES & RATES🚀(USD)

Shipping Zone1



Order subtotal
Shipping options
Shipping fee
$100 and up
DHL Express - 2~5 days after shipment
(+ Package Insurance)
Free
$70–$99
DHL Express - 2~5 days after shipment
(+ Package Insurance)
$7.99
$0–$69
DHL Express - 2~5 days after shipment
(+ Package Insurance)
$12.99
$0–$69
Korea post - 15~25 days after shipment
(+ Package Insurance)
$7.99
Countries: US, France, Germany, Canada, Australia, New Zealand
Switzerland, Hong Kong SAR, Macao SAR, Taiwan, Indonesia, Sri Lanka, China, Slovakia, Italy, Vatican City, Papua New Guinea, Thailand, Vietnam, Laos, Luxembourg, Philippines, Croatia, Jersey, Liechtenstein, Monaco, San Marino, Austria, Belgium, Czechia, Denmark, Ireland, Netherlands, Poland, Portugal, Spain, India, UK, Japan, Malaysia, Singapore, Timor-Leste



Shipping Zone2
Order subtotal
Shipping options
Shipping fee
$100 and up
DHL Express - 2~5 days after shipment
(+ Package Insurance)
Free
$70–$99
DHL Express - 2~5 days after shipment
(+ Package Insurance)
$12.99
$0–$69
DHL Express - 2~5 days after shipment
(+ Package Insurance)
$19.99

Countries: Hungary, Greece, Lithuania, Romania, Slovenia, Sweden, Qatar, Saudi Arabia, Norway, Finland, United Arab Emirates, Chile, Colombia, Brazil, South Africa, Uruguay, Samoa, Panama, Ecuador, Greenland, Guatemala, Fiji, Israel, Belarus, Costa Rica, Dominican Republic, El Salvador, Nepal, Nicaragua, Paraguay, Afghanistan, Albania, Andorra, Armenia, Azerbaijan, Bahrain, Bangladesh, Bhutan, Bosnia & Herzegovina, Brunei, Faroe Islands, Georgia, Gibraltar, Guadeloupe, Iceland, Iraq, Jordan, Kazakhstan, Kiribati, Kuwait, Kyrgyzstan, Lebanon, Maldives, Malta, Mayotte, Moldova, Mongolia, Montenegro, Myanmar (Burma), Nauru, New Caledonia, North Macedonia, Oman, Réunion, Serbia, Solomon Islands, Tajikistan, Turkmenistan, Uzbekistan, Vanuatu, Yemen, Cook Islands, Åland Islands, Anguilla, Antigua & Barbuda, Argentina, Aruba, Bahamas, Barbados, Belize, Bermuda, Bolivia, British Indian Ocean Territory, Caribbean Netherlands, Cayman Islands, Cocos (Keeling) Islands, Curaçao, Dominica, Falkland Islands, French Guiana, French Southern Territories, Grenada, Guernsey, Guyana, Haiti, Honduras, Jamaica, Martinique, Montserrat, Morocco, Niue, Pakistan, Peru, St. Barthélemy, St. Helena, St. Kitts & Nevis, St. Lucia, St. Martin, St. Pierre & Miquelon, Sint Maarten, South Georgia & South Sandwich Islands, St. Vincent & Grenadines, Suriname, Svalbard & Jan Mayen, Tonga, Trinidad & Tobago, Turks & Caicos Islands, Tuvalu, U.S. Outlying Islands, British Virgin Islands, Wallis & Futuna, Egypt

PROCESS🔁
Processing: Upon your placement of order, allow 1 business day (excluding weekends and holidays) for the system to process it.


Brand fulfillment: Our team operates from South Korea and offers guaranteed authentic items to our customers. We source our products from direct suppliers depending on the volume of the demand to fulfill the request. After confirming, they will ship the items to our fulfillment center. This step may take up to 7 business days.


Shipping: Our company strives to deliver high-quality items in pristine condition. Thus after receiving the items, we check each and make sure of its quality and that it can travel safely across the globe without a dent or scratch. Once your products are ready, we will be shipping them out using international courier, DHL or Fedex or Koreapost and ship them out within the day or after the label is printed. Cancellation would not be possible at this step as products are ready to ship. Shipping takes up to 10 days, including delivery depending on the shipping method and your country of residence.


Notification: After shipment, you will receive a notification via email or text message with a tracking number (multiple tracking numbers if your order is shipped in multiple packages). If you do not receive your package 3 weeks after receiving your tracking information, please contact our customer team at hello@daebak.co.
Additional notes:
Occasionally, there may be out-of-stock products upon checking with our partners. In this case, we'll contact you separately and give you a full refund.
For high-demand products (e.g. K-pop albums), there could be unexpected delays.
If your order includes a pre-order item, the whole package will only be shipped out once pre-order items are available.

Editing orders (remove, add) should be done within the next 24 hours after the order has been successfully placed. Requests beyond the timeframe would be automatically declined.
SHIPPING DELAYS and POSSIBLE FAILED DELIVERY
There may be shipping delays if your package is subjected to customs clearance.
You are liable for submitting the correct shipping address (in English characters only), full name (no initials), and phone number. We are

not

responsible for undelivered packages due to errors made.
Please check your country's customs policy before purchase. Depending on your country's customs and tax policies, there may be additional taxes and fees. We are

not

responsible for any additional charges. (We collect Value added tax for UK and report to HMRC)
We here at The Daebak Company want to provide our members the best shopping experience. We are happy to accept authorized returns if you are not satisfied with your order.
Policy
You have 14 days from the delivery date to request a return.
We will be responsible for the delivery charge if products are missing, damaged or incorrect. In other return cases, you will be responsible for the delivery fee.
Conditions
All products must be unused and unopened. We do not accept damaged or used products.
How to process a return
Please email us at hello@daebak.co with your order number, full name, and email address associated with your account.
Damage and Defective Goods

You have 7 days from the delivery date to report the issue with attached photos and videos of the item/s. The team will assess the case and provide appropriate solution.
For damage goods, there is no need to return the item. For defective goods, this will be assessed by the manufacturer and if return is requested the team will provide details as to how.
Reports and request past 7 days will be rejected.
Subscriptions
Daebak Box, SnackFever
The Daebak Company never charges you without your authorization. Once you place an order or have been billed for a new subscription activation or a subscription renewed, we are not able to offer a refund, return, or exchange.


Refund Options
Refund as Daebak Points (Shop credit): No processing fee.
Refund to original payment method: $5.99 per order. (Due to Shopify transaction fee)
*We don't charge for cases like out of stock and defective item.
Refunds will be processed within 5 business days.