WHAT'S INSIDE
BT21 Note 3ea - Random Member
 Description
Customize your desk decor with these precious BT21 notebooks.
Customer Reviews
Filter Reviews:
notebooks
paper
mistakes
cover
best
store
table
person
type
quality
Chie L.

United States
I recommend this product
08/27/2021
Love all your items
I have continued to buy many items from your store. I want to point out that I really appreciate you handling my order with care, regardless of how much or how little I buy. Thank you for your wonderful customer service and humble atmosphere. It is very refreshing when all else seems to be depressing. Your the best!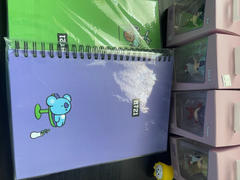 Josephine S.

Sweden
I recommend this product
Mary R.

United Arab Emirates
02/01/2023
Cute BT21 notebook
I got 3 of these a while back but only started using them at work. The front is cute and adds color to my work table! The paper is fairly good but some of my pens bleed through the next page.
Glad you find the notebooks useful, Mary :) Thanks for your feedback! We appreciate it.
Darlene V.

United States
I recommend this product
09/02/2021
Awesome Notebooks
It is great! Easy to carry around. Would have been a perfect 5 for 5 if i hadn't gotten 3 of the same notebook. But that's what you get when it says random.
Anja B.

Germany
07/26/2021
Cutest notebooks
The notebooks are perfect! I got two packs when they were on sale and "unfortunately" got the same random ones but I don't mind at all, they're so cute and the perfect size!
Mary m.

United States
I recommend this product
07/22/2021
BT21 note book
These are so cute! Almost made me wish I was back in school…
Carolina S.
I recommend this product
06/04/2020
Cute
They super cute and useful, just smaller than our regular notebook we use in the U.S and you only get 3 out of the 7. Still very useful and love how well they are made.
Lee E.

Canada
I recommend this product
Denise D.

United Kingdom
I recommend this product
05/12/2020
Note book
I love them! So cute and practical!
Raissa S.

Canada
I recommend this product
05/08/2020
Can not get enough of these books
I was so surprised by the quality of the papers. I am the type of person that will continuously make mistakes and keep erasing, however the paper did not tear or even thin out. I loved the hard cover as they made writing notes without a table so much easier and extremely handy. I also ended up recommending these notebooks and will buy more for sure!